Colorado Springs is one of our family's favorite places to visit, especially when the leaves turn colors and the weather is simply perfect!

Below are our most favorite things to do there with our little ones.
Visit Pike's Peak

Set around 3-4 hours for this fun adventure with your littles, which children 5 and under enter Pike National Park for FREE! Not only is driving to the summit beautiful and thrilling, there are also plenty of places to stop for pictures, rest areas along the way, the Crystal Lake Gift Ship, reservoirs, and a new Summit Complex currently in the works!
Crystal Lake is undoubtedly the most popular lake along the way to the peak, but the South Catamount Reservoir is just as beautiful and breathtaking! Lined with tall pine trees around its edges and with the majestic mountains against its backdrop, the reservoir is best viewed with a jacket and admiration for nature!

And of course, don't forget to reach the summit of Pike's Peak and snap a picture to celebrate driving up 14,115 feet above sea level!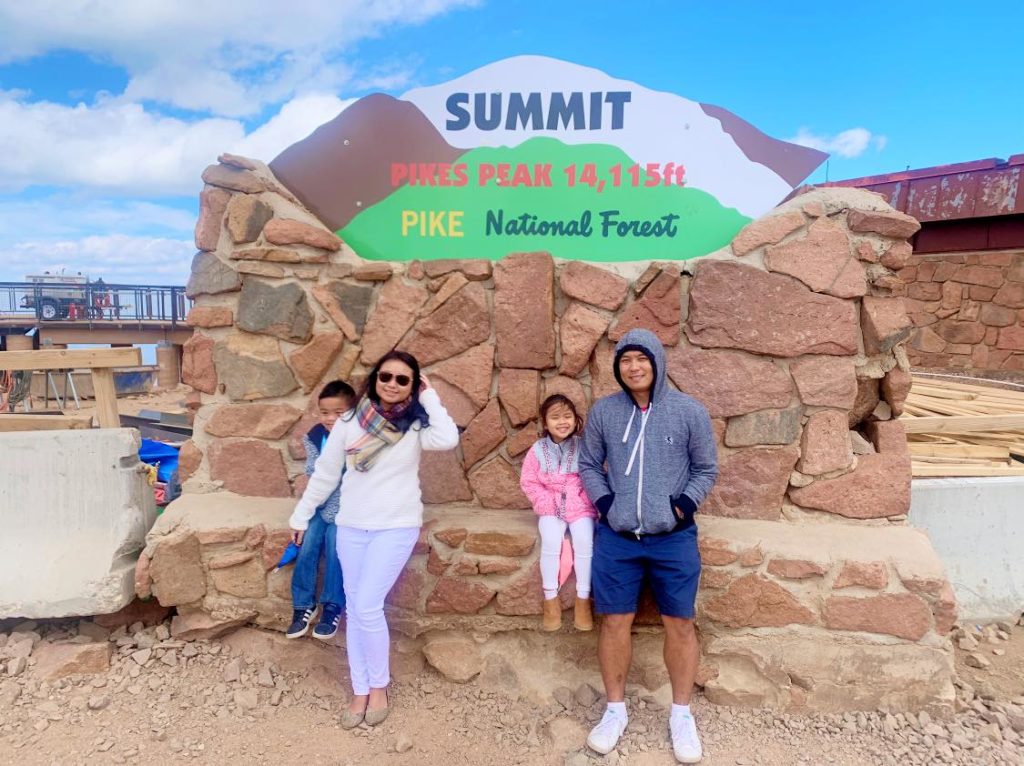 2. Visit Broadmoore Seven Falls

This is another perfect site to visit with little ones! Add the trolley ride to your admission ticket and you'll be on your way to see seven picturesque waterfalls! Visitors can also take the stairs to get an up-close look on the waterfalls or ride the elevator that goes directly to the top deck for a view that is unbeatable!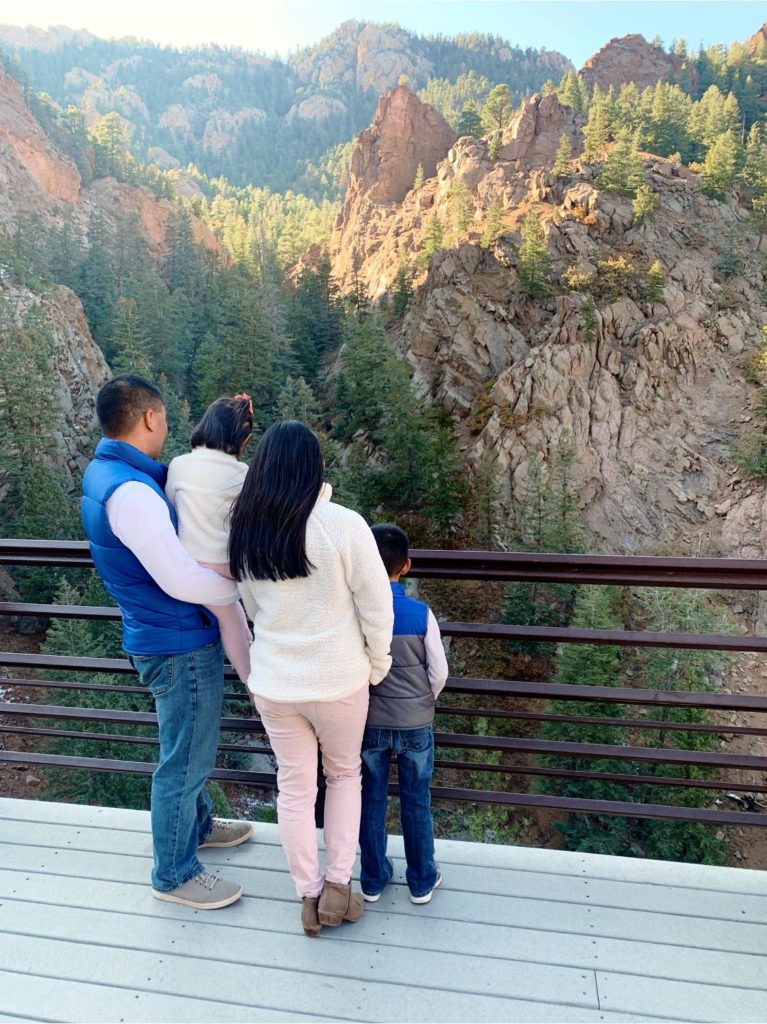 3. Enjoy the Sunset at Garden of the Gods

A trip to Colorado Springs just can't be complete without a visit at Garden of the Gods! Majestic boulders and rock formations at every turn really take you back millions and millions of years! Try to avoid visiting during the day since it can be hot and crowded. Parking and traffic within the Garden can also be an issue during the day. Therefore, before sunset is the best time for a quick trip to the garden with kids.
4. Explore Manitou Cliff Dwellings
Immerse yourself and your children into the history, culture, and cliff dwellings of the fascinating ancient Anasazi. Visitors can walk through the dwellings and participate in interactive activities to learn more about how the ancient Anasazi lived, played, and survived in Colorado long ago.

5. Strike a Pose
Manitou Springs, which is next to Colorado Springs has some of the best murals that capture the spirit of Colorado and its people! They are so beautiful and make great memories of your trip as a family!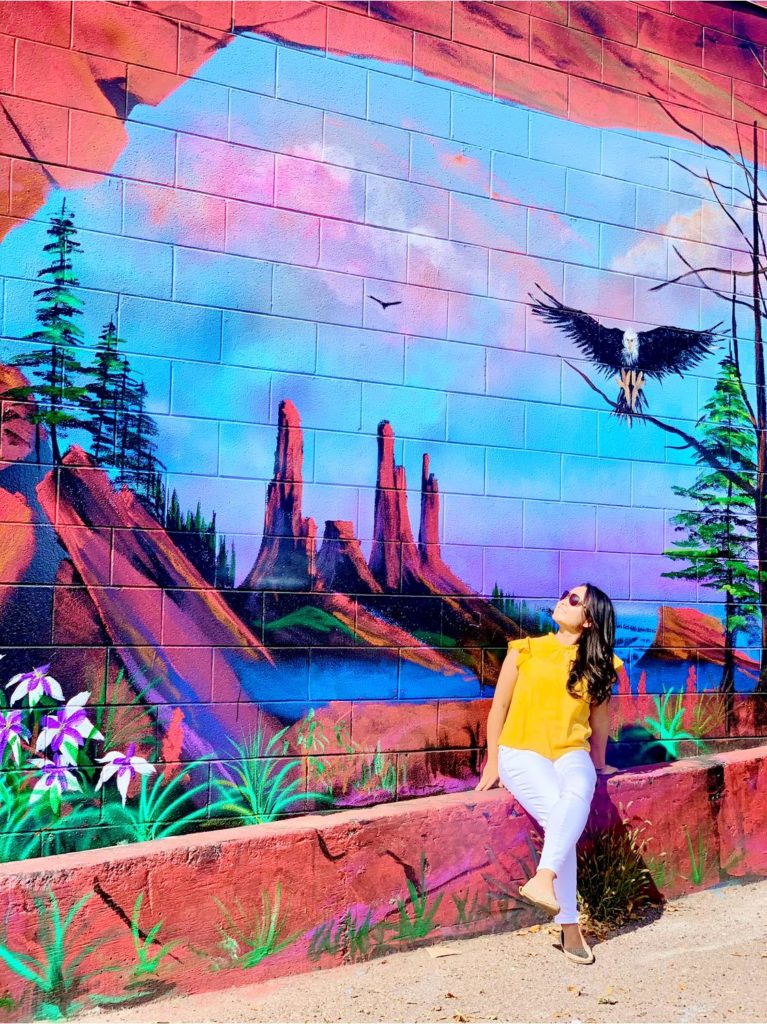 6. Tour a Castle

Who would think that right by the Garden of the Gods would be a beautiful Tudor castle?! But it's true! Visitors can book a room to stay in the castle or visit it for FREE! There is a sweet gift shop that sells souvenirs, snacks, and drinks. There is also a restaurant that you book for afternoon tea. The grounds of the castle are also beautiful and well maintained! In addition, there are friendly mountain goats and wild turkeys that share this magnificent place as their home!

These are some of our favorite places in and around Colorado Springs to do with my littles! I hope this helps plan your next trip there! 🙂