This past weekend, I teamed up with Oriental Trading Company to throw a ROAR-some Dinosaur Birthday Party for our son! It was one of his best yet and I'm so excited to share with you all the details!!!
To add a cool element to the traditional cake table, I blew up these Gold Letter Mylar Balloons in front of it. The balloons were definitely an attention-grabber as guests arrived at the party and were immediately drawn to it!


I used green, lime, and yellow streamers to create a tropical backdrop along with the Dino Dig Plastic Streamer. Then I created and added these personalized banners with thine and tape. You grab the printables here!

This chocolate was the most simple and yummiest chocolate cake we've had to date! I snagged it with a local supermarke and then decorated it with a personalized sugar cookie, chucks on a Heath Chocolate Bar, dinosaur figures and two plastic greenery found from a floral arrangement at home. I then used chocolate icing as adhesive for the mini Twix bars around the cake. That was it! 🙂

These quick snacks for where placed in decorative Palm Leaf Serving Trays along with these adorable food labels! Grab them here! Plus, these printable water bottle labels are simply ROAR-some!







Last but no least, how amazing are these cookies from my girl Antoinette from Shoelaces and Sugar Cookies? Not only are they yummy, they are so cute!!!!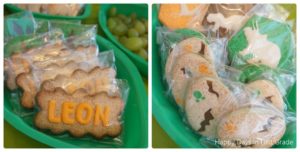 To snag up my party, click on the links below!
Dino Dig Party Treat Stand with Cones
Palm Leaf Serving Trays

Dino Dig Plastic Tablecloth
Dino Dig Square Paper Dinner Plates
Happy Planning!

Disclosure: These items were provided for free in return for my honest review. All thoughts and opinions expressed are of my own and not influenced by OTC and/or its affiliates, in any way.