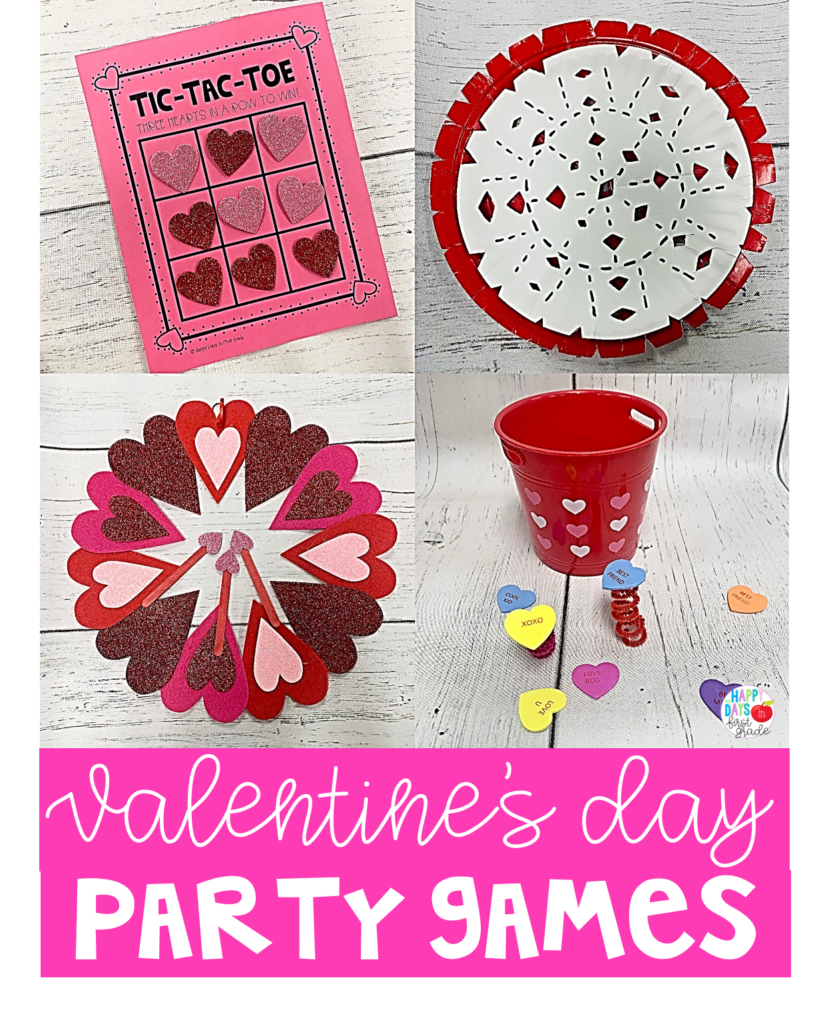 Valentine's Day is in the horizon again, so it's officially time to plan for the Valentine's Day Party!!! 🙂
Here are four simple games that are best done as stations with a parent to help at each station as students rotate around the classroom! With each game lasting around 5 minutes, it will take the kids 20 minutes total to complete! This means, the rest of the time can be devoted to passing out Valentine's cards and enjoying treats!
Game 1: Tic-Tac-Toe

Pull out the confetti hearts and have your students play a simple game of Tic-Tac-Toe! They can play on a simple template like this or with lines drawn on whiteboards.
2. Spring into Love

Have your students make a simple spring by rolling a pipe cleaner around a pencil! Next, stick a Conversation Heart sticker to the top and then challenge them to see how many times they can spring their heart into the Valentine pail! Easy and will definitely ensure lots of laughter!
3. DIY Doily

Have you students help decorate their own table for the party by teaching them to create their own doily! Simply fold a white paper plate into sixths, cut small triangles along its edge, then draw black dashes along the lines and TAH-DAH!!!! A DOILY for their place mat!
4. Shooting Cupid's Arrows

For this fun game, each student will glue three confetti heart onto three red craft sticks. Hot glue is the best adhesive for this activity. Therefore, having a parent to assist with this is the best! Once each student has his/her own arrows, they will take turns shooting their arrows into the middle of the heart garland while standing 3-4 feet away! Afterwards, students can take their arrows home and shoot their Cupid's hearts away at their loved ones!!! 🙂
If you need more Valentine activities, check out the Kindergarten and First Valentine Packets below!
Have fun planning!!!